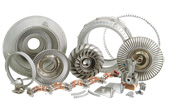 The AIAP Service
AIAP provide support for most modern commercial jets including 737 (both classics and new generation), the A320 family, 757, 767, A310, A330, A340 and 747-400.
We specialise in supplying APU's on short- term lease while your unit is undergoing repair and offer the following:
Extremely competitive rates.
A simple and straight forward contract.
A speedy shipping service.
Quick response times especially in AOG situations.
We stock a large inventory of both core engine parts and LRU's offering a high quality and competitive source of parts to APU repair shops around the world. All our parts come with current certification and full trace.
APU and Parts Sales/Exchange
At AIAP we offer the option of outright purchase or exchange of APU's and Piece Parts.
AIAP stock and provide high quality Honeywell and Pratt & Whitney Aeropower APU's. Our APU's have all been repaired at some of the leading APU MRO's and come with current certification and full "back to birth" history.
AIAP also stores a large inventory of APU piece parts, both core engine parts and LRU's. We provide full trace and current certification. Our prices represent a substantial discount to the OEM alternative with no diminution in quality or trace.
In addition AIAP also offers an EXCHANGE option when required, on the terms of a FEE plus COST OF REPAIR and a FLAT RATE basis.
Repair Management
APU Repair Management
Our worldwide customer base include some of the leading independent MRO's with whom we work with to achieve a high quality work-scope at competitive prices for our contracted customers.
Many small airlines find that this service is a good use of resources, and prefer to sub contract the repair management of their APU's to a specialist organisation such as AIAP.
Allow us the opportunity to demonstrate what we can achieve for your airline.
APU Leasing and Exchange
AIAP operates a pool of APU's available for lease while your APU is undergoing repair and overhaul. In this regard we offer customers:
- Highly competitive daily rental and maintenance accrual rates.
- APU's ready to ship ex our stores with full Airworthiness Certification and up to date logbook and other technical records.
- Quick decisions and processing of documentation.
- We operate a standard and straightforward lease contract which can be issued immediately.
- AOG shipping service.
We also offer LONG TERM LEASE options and LEASE/PURCHASE arrangements when required by customers. Our goal is to offer a cost effective solution customised to the needs and requirements of our customers.